Remembering Dianna Mah-Jones
Colleagues and friends are grieving the loss of Dianna Mah-Jones, a much-loved member of the VCH family. Dianna and her husband were tragically killed in their Vancouver home September 29th. While many are wondering how and why this seemingly senseless act of violence occurred, it may be that the best way to move forward is to remember Dianna's legacy, be kind to one another and capture and instill her values in our own lives going forward.
Health care hero
Dianna was a highly-respected and caring occupational therapist at GF Strong Rehabilitation Centre and had been part of the therapy team at Vancouver Coastal Health  for 35 years, 26 of them at GF Strong.  She was well-respected and well-known across the region, province and nationally in the occupational therapy field.  Dianna achieved many career goals over the years, notably the 2015 Outstanding Occupational Therapist of the Year from the Canadian Association of Occupational Therapists BC.  She was also named this year as the VCH and Provincial Health Care Hero in HEABC's annual BC Health Care Awards.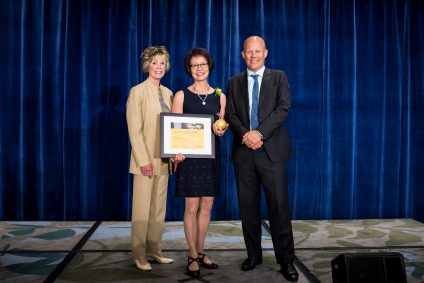 To the world, she was an award winner, an author, and generous sharer of knowledge. To us, she was an energetic, persistent optimist who saw potential, opportunities, and solutions instead of barriers. We encourage you to think about who Dianna was and reflect on the legacy of joy that she lived her life with and inspired in others. ~Jeannette Boily, OT Practice Leader & Jo Clark, Regional Allied Health Practice Director
Zest for life
Jo Clark knew Dianna for 30 years, and recalls her zest for life.
She was very fit, rode her bike everywhere. She loved dancing and music and used music to connect with clients who came to GF Strong through tragic events in their own lives.~Jo Clark
Sarah Sinanan says Dianna was the quintessential OT who put clients at the forefront, using all of the tools at her disposal to facilitate the rehabilitation and recovery process. If a tool didn't exist, Dianna invented it. When a client set a goal of being able to look after his personal needs, including feeding himself, Dianna devised a wooden feeding tower with pulleys and a lever that he could operate in the standing position. Dianna was proud of her device – and just a few weeks before her death, was invited to Denver to showcase it at a conference of the American Association of Spinal Cord Injury Professionals.
She put knowledge into practice and pushed all of us at GFS to full engagement in the rehab process. For the spine team, she was an important part of our daily work and life. She will be sorely missed. ~Sarah Sinanan, OT Practice Coordinator, GF Strong
  
I will always remember Dianna's big smile, she was so happy providing care to people and making a difference in the lives of her clients, their families and her colleagues. ~Cori Ross, Director GF Strong
A memorial service for Dianna Mah-Jones will be held at GF Strong at a later date.
A hope flag will be planted on Mount Kilimanjaro in Dianna's memory. The idea behind the hope flag is that every time the wind blows, the hopes and dreams of each flag are lifted from the material and carried up into the heavens amongst the highest places on earth. Rest peacefully, Dianna.