VIDEO: Celebrating Nursing Week with Mary Ackenhusen
Over 100 VCH nurse educators, directors and chief operating officers from throughout VCH gathered on Monday, May 8 with Mary Ackenhusen, president and CEO, to kick off National Nursing Week and honour the contributions nurse educators make every day to patient care and quality practice settings. During a time of rapid transformation across VCH, we look to nurse educators to lead change and support nursing staff through learning and collaboration – helping VCH achieve its strategic priorities and improve quality care outcomes.
From the front line to the CEO
"We wanted to bring this very influential group of educators together as they are the leaders that are guiding our front line nurses in their practice on a daily basis.  Their engagement is essential for the change that we are trying to enact," said Mary Ackehusen, president and CEO.
Video not working? YouTube may not be supported by your version of Internet Explorer. Copy and paste this URL into Google Chrome: https://www.youtube.com/watch?v=VxSCgmmuGr8
Barb Lawrie, vice president, Professional Practice and chief clinical information officer, began the event by welcoming everyone and sharing some interesting facts on Nursing Week.
"Nurses first declared Nursing Day on May 12, 1974, as it is the anniversary of the birth of Florence Nightingale, the founder of modern nursing, and because of how inspiring and creative she was in changing nursing from handmade work to a profession. She started the first nursing school of nursing in 1860. The first nursing school at VGH opened in 1899."
VCH's President and CEO, Mary Ackenhusen, spoke about the future direction of VCH and the nurse educators' vital role in that future.
"Our future will involve different ways of doing all jobs, including the educator roles, to expand our pathways across the continuum of care, and technology will become much more important in delivering efficient and quality care," said Mary.
Mary thanked nurse educators for their vital role in supporting staff and reminded us all of the importance of helping create and own the new vision – to improve health care for our patients and the system.
Lastly, Mary welcomed all questions and comments from nurse educators and staff shared their appreciation for this unique opportunity.
"I really enjoyed the opportunity to hear Mary speak about where VCH was headed for the future and how I may be able to contribute to the vision and true north goals," said a nurse educator.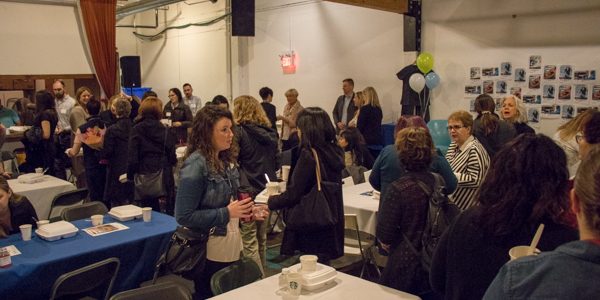 Thank you!
Anne Harvey, vice president of Employee Engagement, thanked everyone who attended and contributed to a successful nursing week event.
Thank you to the entire committee who helped make the day a success:  Conrad Cone, Nina Paauwe, Lidija Zilic, Sara Johnson, Raymond Lim, Macguire Rintoul, Michelle Lam, Abir Cosyn, Robert Mackie, Vicky Hung, Angela Harvey, Shelley Fraser, Alison Swalwell-Franks, Sally Breen and Professional Practice and Clinical Education volunteers.