Coming soon: Bike to Work Week and sunshine!
Make some space in your backpack or pannier! The Spring 2017 edition of Bike to Work Week is happening from Monday, May 29 – Sunday, June 4. During this Metro Vancouver-wide event, tons of goodies and freebies will be given away – including coffee!
VCH has a cycling reputation to defend
Last year, VCH and PHSA tied for first place under the "health" category. Whether you're new to cycling or have been riding for years, we encourage all staff to register and log their trips.
Register your cycling trips
Register under the organization "Vancouver Coastal Health Authority – VCH" and then log your trips.
VCH cyclists have an additional chance to win a prize. If you register as a Team Leader and recruit at least four other cyclists onto your team, you will receive a free merino wool t-shirt.
Register for BtWW 2017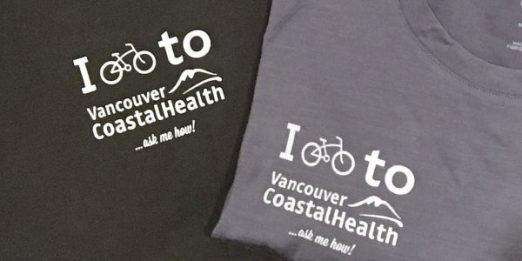 Prizes and give-aways
During Bike to Work Week, there will be over 75 Celebration Stations in Metro Vancouver offering free drinks, snacks, bike mechanic services, and daily prizes.
VCH will be hosting two Celebration Stations:
Mon May 29th (7:00 am – 9:30 am) at the VGH Cycling Centre.
Wed May 31st (6:30 am – 9:00 am) at the LGH HOpe Centre.
In addition to a bike-a-day give-away, the grand prize is a dream bike trip along Croatia's Dalmatian Coast. Team Leaders are also eligible to win additional awards and prizes, including an 8-day bike trip in Tuscany.
Thank you for cycling to work.  Bike safely. Bike often…and bring your coffee cup!