A Sacred Space for all
As the tobacco burns and smoke rises, carrying prayers to the Spirit World, the sweet smell of cedar, sage and sweet grass fill the room during a smudging with Indigenous residents of Purdy Pavilion at UBC. This is UBC hospital's newly renovated Sacred Space.
The space has been fitted with a ventilation system to allow for smoke from the burning of various medicine plants in an abalone shell to escape, and are wafted using an eagle feather during ceremonies. This ritual cleansing is meant to lift negative energy, feelings, and emotions away; leaving the mind, body and spirit feeling healed, and personal energy is balanced.
On Tuesday, June 13 the opening of the Sacred Space was marked by an interfaith dedication ceremony. Musqueam Knowledge Keepers cleansed the space with cedar boughs prior to the dedication ceremony as well as provided the welcoming to their unceded land.
Elder Marr Dorvault from Gitxsan Nation performed two songs and welcomed the Sacred Space to UBC Hospital "as it offers strength to families and loved ones during difficult times."
The Sacred Space is open to people of all faiths at the hospital as well as residents of Purdy Pavilion. It provides an indoor area for smudging and pipe ceremonies, making it easier for our Indigenous peoples to observe important parts of the traditional Aboriginal healing journey.
With a diverse Aboriginal population, Vancouver Coastal is committed to providing culturally safe to members of 14 First Nations communities from Richmond to Klemtu on the central coast.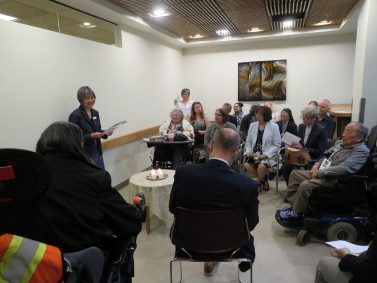 Spiritual Care Practitioner Audrey Wong at the Sacred Space dedication ceremony
Culturally safe care for Aboriginal populations
Complimenting initiatives already in place like the Aboriginal Health Patient Navigators who connect Aboriginal patients to health care professionals and services, the Sacred Space further underlines Vancouver Coastal' s commitment to its Aboriginal patient population.
Executive Advisor of Aboriginal Health, Leslie Bonshor commended Vancouver Coastal for "providing safe and sacred spaces for our Aboriginal patients to help themselves get well in a way that is important and sacred to them and their families."
Visit the VCH website for more information about Aboriginal Health at Vancouver Coastal.
Related stories
New Sacred Space opens at UBC Hospital