Patient Advisors: To have or not to have
Patient and family advisors offer valuable insights from those who have navigated the patient side of health care, a critical perspective for organizations committed to person-centred care.
You may be thinking about including advisors on your project or initiative but are not sure it's appropriate or the right time. What things should you consider that will help you determine your readiness to work with advisors? Sign up for our Lunch & Learn on October 25th to find out. Simply RSVP to feedback @vch.ca with the subject line "Lunch & Learn RSVP Oct 25"
After this 45-minute session, you will feel more prepared to determine if and when your project or initiative should engage patient and family advisors.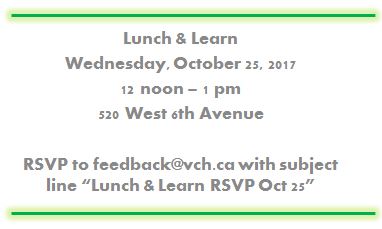 All staff, physicians and contractors are welcome to this free event. Bring your lunch and an interest in the topic. We'll provide coffee, tea and cookies.
Lunch & Learns is a monthly series of informal and informational sessions designed to strengthen the engagement and communications skills vital to a People First organization.