The Take with Questions Quiz: Health Care Provider Edition
VCH health care providers, before your patients take their meds, take this quiz and put your knowledge of medication safety to the test.  As a health care provider are you providing the safest care for your patients? Find out your medication safety level when you take the quiz. Will you be honored with the Golden Stethoscope, or the Bronze Defibrillator?  Either way, have fun with the quiz and share with your colleagues! It's part of Canadian Patient Safety Week 2017.
Take the provider quiz now
Enter the prize draw
At the end of the quiz you'll see a screen like the one below, with the name of your result, e.g. "Silver Sphygmomanometer." To enter the draw for a VCH water bottle, just mention the name of your result in the comment section below before November 6. Draws will take place November 6 and winner will be listed in the Nov. 9 edition of VCH News.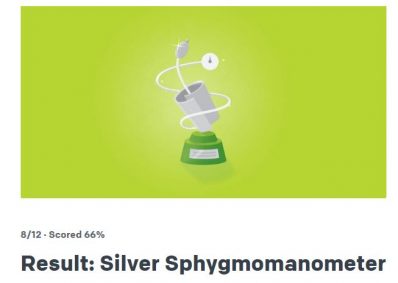 Get your patients involved
There's a Take with Questions Quiz: Patient Edition as well.