How do you make a difference? Contest closes November 17!
These submissions received so far exemplify how you make a difference, speak to WHY you do what you do, and the incredible, collective heart behind it all.
Here is how YOU make a difference in the lives of patients and families:
"I tell the families of our NICU babies not to worry when they leave for the night and that I will love their babies like they were my own while they are gone" (RN – Richmond Hospital NICU)
"Singing to my patient" (Michael – LPN)
I had a patient huddle and I asked patients for suggestions on how their stay was on the unit. One of the patients shared their experience and said when security arrived on the unit they felt afraid. I now make a point of explaining to the patients that security is not here for them.  This helps to reassure them and they appreciate when you listen and advocate for them, making them feel valued.  (Lynn – RN Psychiatry)
"My role as an ERN at RH calls for me to be a support and mentor to nurses on the units in many ways. I once called a junior nurse at home after she returned home after a night shift to ask if she was OK when I learned that she had had a difficult time coping after experiencing the death of a patient for the first time." (Nem – ERN Richmond)
"I made a patient happy by acknowledging her being upset" (Shalimar – RN)
"I take one of our geriatric patients outside as much as he'll let us. Once he's outside the smile on his face is priceless." (Michelle – RN Residential Care)
"I make a difference by making sure staff are available to provide quality care to our patients."(Kathleen – Richmond Staffing)
On one of the medical units our dementia patients sit at the front of the nursing station so that we can keep a close eye on them. To help brighten their day I sometimes will start singing and have them join me…I also sometimes sneak them a chocolate from the nursing station if their nurse agrees…It seems to really brighten their day" (Richmond – Nursing Unit Clerk)
"Giving a warm face towel before breakfast" (Nara – LPN)
"I will make sure our patient has tea and a hot blanket after she has delivered her baby" (Registered Midwife, Richmond Hospital Birth Center)
"I made my patient smile by sharing a joke" (TJ – LPN)
"The staff at our Café Ami take our stressed-out demeanors and worried, starving patients and visitors, yet they take the time to be personable, supportive and kind. (Nominated – VGH Café Ami).
"By bringing in newspaper for our patients to read" (Kathy – Nursing Unit Clerk)
"By sitting with a patient who was feeling upset and anxious. I practiced deep breathing with her and calm her down" (Patty – Rehabilitation Assistant Richmond Hospital)
"Calming an agitated patient and assuring them that they are safe"  (Pat – LPN)
I gave a simple shower to my patient to make him feel better and I did not expect this much gratitude (Joy – RN VGH)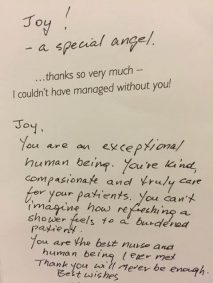 Stay tuned
We will be announcing the 3 winners of the 2018 Quality Forum registrations and Coffee Break prize for the team with the most submissions.
How to enter
Email your submissions to lisa.stewart@vch.ca with the subject line "I/We Made a Difference."