Powell River nurse practitioner Erin Berukoff is helping to empower patients
While she's never imagined herself as a risk-taking mountain climber, Powell River nurse practitioner Erin Berukoff feels like that's what she's been doing over the last couple of year as she's become more comfortable in her NP role helping a growing group of Powell River residents address their health care challenges.
While her mountain is purely a mental one, she's excited to be climbing it, having gone from "expert to novice" when she became an NP after having worked most recently as a registered nurse in Powell River General Hospital (PRGH).
She describes the steepness of her learning curve the last two years as, "like climbing an icy cliff." And with the support of her fellow health care professionals in the community she's, "just getting over the edge of the cliff where you can see the top of the mountain in front of you."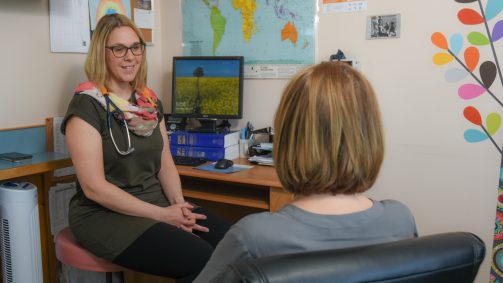 But like any good climber, her passion for conquering the elements and seeing the top of the mountain is what drives her. With her three-day-a-week case load of about 250 patients – most of whom are facing complex chronic conditions, mental health challenges and many of whom are frail and elderly – Erin regularly sees the difference her work is making.
"I love seeing the pumped reaction of patients when they've made small changes and can see the positive results it's bringing," she says.
Offering a combination of outreach, women's health and primary health care services, Erin loves the diversity of her work and the wide range of health care practitioners that she winds up collaborating with. As well as supporting fellow PRGH nursing staff, she's worked hard at building a strong relationship with the Powell River Division of Family Practice, helping improve her understanding of the issues around unattached patients in the Powell River area.
Change can be good, really good
Speaking of changes, Erin's excited about a recent one that's shifted how she works with the nurses and physicians around her, as she's become part of an integrated health care team with her fellow team members at Family Tree Health Clinic.
While some people resist change, Erin is positive about the changes that have occurred to her role, leading her from solely conducting residential care consultations and community outreach to her current role where she works as part of a fully integrated care team.
It's this ongoing ability to thrive amidst change that has Erin hoping to see some shifts in how Powell River residents are cared for in the future. Her vision for the future is one where she's touching the lives of and helping empower more patients – whether it's through group visits for those with chronic disease or by using Telehealth – and continuing working her way to the top of her mental mountain.
What nurse practitioners do
Nurse practitioners use their advanced skills and knowledge to:
• diagnose and treat health conditions
• order and interpret tests
• prescribe medications
• order medical procedures
• provide counselling and education