LGH first B.C. hospital to own Star Trek-like device that instantly detects bacteria in wounds
For fans of Star Trek, a new Canadian device known as the MolecuLight i:X™ might look like an early prototype of the famed medical tricorder used in the popular sci-fi franchise.
And Lions Gate is the only hospital in B.C. to own one. And it's already making a difference.
Like the Star Trek tricorder, the MolecuLight i:X™ is a handheld device that scans over a person's wound to instantly detect bacteria invisible to the human eye, including staphylococcus aureus, MRSA, streptococcus spp, E. Coli to name a few .
The device can also accurately measure the size of a wound and whether there is a bacterial load within the wound bed and in the periwound (surrounding) skin. Using fluorescence imaging,the MolecuLight i:X™  device emits purple light and is best used in a dark environment, which can sometimes be a challenge in a well-lit environment like a hospital. But Rosemary says the extra effort to darken a room is worth it based on the results she is getting.
Once the device shows a reading, a wound clinician can zero in on precisely where to clean a wound, determine whether antibiotics are needed, and decide whether a client should be hospitalized or sent home. The device is used before, during and after debridement to ensure the completeness of cleansing.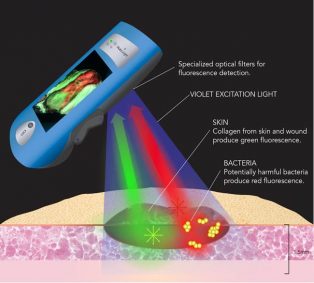 "It helps me make the right call," says Rosemary Hill, a wound ostomy continence clinician with LGH's Wound Care Team, who uses the device on 70 per cent of the patients she sees. "And it helps reduce anxiety in patients, some of whom are now asking, 'I want you do that that special light on my wound so I know my wound is getting better.'"
As well as improved patient care, the device can help reduce the financial impact on our health care system if wounds are treated before they become an issue. The cost to heal not only increases but in some cases can lead to amputation in some wound cases without proper wound care.
As it is handheld, Rosemary takes it with her wherever she's needed and can scan a patient immediately upon arrival to get an image of the wound bed, the periwound and surrounding areas at the point of care and decide on the correct treatment plan.
Device attracting international attention
Together with Dr. Joshua Douglas, an LGH infectious disease specialist, Rosemary has been putting deteriorating wounds on the path to healing since she got the $6,500 device last fall thanks to the generosity of the Lions Gate Hospital Foundation's Women's Giving Circle.
"As a result of the Women's Giving Circle being open minded to new technology and with the support of Dr. Douglas, the device is already having a positive impact on people on the North Shore," says Rosemary. "I'm very grateful to the Circle. And now people in other countries are very interested in learning more about this new device that was created by Dr. Ralph DaCosta, an Ontario physician."
In her role as President of the Canadian Association for Enterostomal Therapy, Rosemary has been invited to speak at national and international conferences, sharing the team's pioneering work with the MolecuLight i:X™. Lions Gate Hospital is the first hospital in Western Canada to use the device  and it is now being distributed by Smith & Nephew, a large wound care company.
"As Dr. Douglas likes to say, 'Rosemary, go get the light. We need to shine the light.'"