Foundry North Shore offers new approach to wellness for youth and young people
With the opening of Foundry North Shore, VCH has reason to celebrate. The "one-stop shop for youth" 12-24 marks another major milestone in how mental health and substance use services are accessed on the North Shore.
Foundry is a culmination of years of hard work and foresight between VCH's Child Youth Mental Health & Substance Use (CYMHSU) team, manager Tanis Evans, Dr. Steve Mathias (Foundry Executive Director) and former Coastal mental health director Elizabeth Stanger. At the heart of Foundry's vision, however, has been local community partners, as well as youth and their families, who have each added depth and variety to the Foundry program menu.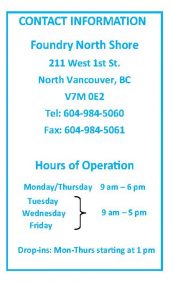 North Shore youth not only have access to a place like Foundry, where they can get medical attention, support for mental health and substance use as well as social and vocational services, but also can link into iYOS (Intensive Youth Outreach Service), and the Carlile Youth Concurrent Disorders Centre if necessary.
Filling in the gaps in service
"We saw gaps in service and we knew we could do better at helping youth before they reach a crisis point and end up at the Emergency Department," says Tanis. "This is a very exciting time and we are committed to working with our partners to change lives, communities and systems."
Karin Olson, Coastal Chief Operating Officer, agrees.
"The dramatic overhaul of youth services on the North Shore that has occurred over the last few years not only takes sweat and tears, but vision,  determination and collaboration," says Karin. "I marvel at what Steve, Tanis, and the entire CYMHSU team, along with our partners, have been able to achieve with iYOS, Carlile and now Foundry. These are all truly remarkable achievements."
New approach to wellness
For Steve Mathias, Foundry represents a new approach to wellness services for young people.
"There is a real reason behind each of the services at Foundry," Steve says. "It is about providing the right support when a young person needs it and equipping them with the tools and strategies to thrive in life before their health problems become severe."
The journey to transform a 9,000-square-foot shell space into a beautiful and welcoming centre has been a significant and collaborative effort involving VCH North Shore staff, notably Clinical Planner Terry Bulych, who led the intense clinical planning process with the CYMHSU teams and community partners; and Kerrie Watt, Youth Mental Health and Substance Use Prevention Educator, who was integral to launching the Foundry Youth & Parent Voice Group and liaising with dozens of stakeholder groups.
"Our journey to streamline and centralize services could have not have happened without key VCH staff, such as Kerrie," says Terry. "She was integral to so many components and working with many community partners and staff at the City and District of North Vancouver, School Districts #44 and #45 as well as our First Nations allies – all for the purpose of finding better ways to work together to support and facilitate the new model of service Foundry North Shore will offer."
Foundry North Shore is also indebted to Fraser Health's Real Estate Manager Karen Obeck, VCH Project Manager Stephen Roberts, Kristen Gattens from B.C. Children's Hospital and Stephanie Gillingham from Foundry Vancouver Granville (formerly Granville Youth Health Centre.)
Bright future
It's what happens next, however, that counts.
"And that is serving the young people in our community who need help," says Terry Bulych. "Together, we will build bridges, tear down barriers and empower young people on their path to wellness. I see a bright future ahead."
Who will be onsite:
VCH, Ministry of Children and Family Development, YWCA (Work BC), Canadian Mental Health Association, Hollyburn Family Services, Capilano Community Services, North Shore Neighbourhood House, Parkgate Community Services Society and Family Services of the North Shore.
What services will be provided:
Youth medical clinic (primary care/public health)
Mental health counselling
Substance use counselling
Walk-in counselling
Family counselling
Groups for parents and youth
Prevention services
Psychiatry
Hospital liaison
iYOS (Urgent Response/Intensive Case Management)
Peer support
Parent navigator
Eating Disorder Services
Vocational services
Housing support services
Occupational Therapy
You can find Foundry North Shore on Facebook, Instagram & Twitter.
See more stories on Foundry North Shore: