Winter is coming! Are you prepared for the land of ice and snow?
Jon Snow is right. Winter is coming and that means roadways, sidewalks and walkways can become dangerous when the mercury drops and cause people to slip, trip and fall. We don't want that to happen to any of our staff, visitors, patients, physicians or our contractors.
No matter how well the snow and ice are removed from parking lots and walkways, pedestrians will still encounter slippery surfaces when walking outdoors in winter.
"We want to ensure that everyone who comes to the LGH campus will be safe this winter when wet surfaces become icy or snowy," says Corrie Irwin, Director, Perioperative & Surgery Services and chair of the LGH Ice and  Snow Campaign committee. "It's important for everyone to be constantly aware of these dangers and to learn to walk safely on ice and slippery surfaces. We also want staff to report any icy areas they see."
Who to call for ice/snow maintenance
If staff see a potentially icy area that requires attention, call security at the non-emergency Local 4777 or maintenance and/or housekeeping. Visitors can notify security officers who are on site, volunteers who staff the information desk or call the main LGH hospital number (604-988-3131).
At LGH, Paladin Security is responsible for salting and ice removal activities at 6 am for the following areas:
Lions Gate Hospital main exterior entrances and walkways
Parking lots when they become slippery (as a whole or in patches) from ice and light snow.
Ice removal tasks should be completed by 7 am in the morning with ongoing monitoring by Paladin, maintenance or Crothall throughout the day.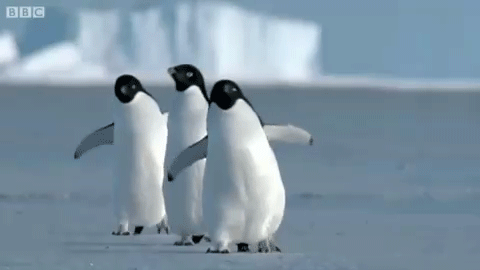 Walk like a penguin and other tips to prevent slips, trips and falls
Use main walkways that have been salted and cleared of ice and snow.
Avoid boots or shoes with smooth soles and heels, such as plastic and leather soles. Instead, wear shoes or boots that provide traction on snow and ice; boots made of non-slip rubber or neoprene with grooved soles are best.
Get support! A cane, walking stick or a ski pole can help you keep your balance on the ice and snow.
Be extra careful when getting out of a vehicle. Hold onto the vehicle and exit slowly
Walk like a penguin! Slow down and take short steps. This helps you to maintain your centre of balance.
Keep your hands out of your pockets. Hands out of your pockets while walking lowers your centre of gravity and increases balance. You can help break your fall with your hands free if you do start to slip.
When entering buildings, try to remove snow and water from footwear so you don't create wet, slippery conditions indoors for others.