Bella Coola, Bella Bella staff rise to the occasion following tsunami alert
When the hospital you work in is literally at sea level, a loud siren alerting you to a coastal-wide tsunami can easily cause wide-spread panic.
Luckily that was not the case in Bella Bella or Bella Coola after a coastal-wide tsunami alert was issued following a magnitude 7.9 earthquake in Alaska early Tuesday morning.
The adrenaline was pumping and the fear was palpable, but composure, teamwork and emotional support and guidance from leadership prevailed throughout the terrifying ordeal.
Gary Housty, manager at R.W.Large Memorial Hospital in Bella Bella, was first alerted to the warning by pounding on his apartment door at 2:10 am from a staff member informing him that the hospital needed to be evacuated.
That news took a moment to sink in for Gary, who lives in a complex next door to the hospital. As his wife and son left for higher ground, Gary raced to the hospital to find the three staff on duty already mobilizing patients for evacuation (dressing, transferring to wheelchairs, packing up medications, crash cart medications, IV supplies, O2 tanks and supplies).
Gary's first calls were to William Findlay, Director, Central Coast, who, coincidentally was vacationing in Tofino dealing with his own personal evacuation, and the EOC.
"I stayed in touch with William throughout the night. He was incredibly supportive, quick to assess the situation and provided additional guidance, which helped calm nerves," says Gary. "We made decisions on the spot and continued to stay in touch."
Not long after the alert went out, 20 more hospital staff arrived including RNs, LPNs, PCAs, CLXTs, MLT, MDs, pharmacist, pharmacy assistant, clerical staff, FMO staff and a cook, to help. One of them was clinical supervisor Dega Hersi.
"I was nervous initially but once I arrived at the hospital there was a lot to do and I forgot to be nervous," says Dega.
"What struck me was the response from the community and staff members who came to the hospital to assist in any way they could.  Some leaving their homes and families in the safe zone to make sure that the hospital was evacuated."
The intensity of the situation was compounded when community members started to flood through the hospital doors to see their loved ones. Meanwhile, Gary's cell phone was exploding with text messages and phone calls while RCMP sirens were blasting throughout the small Central Coast community.
Despite the mayhem and hectic scene, staff safely evacuated the hospital's 10 patients to higher ground.
Facilities and maintenance staff, including supervisor Ralph Humchitt, then swept the facility to turn off systems (propane tanks, oxygen systems).
Once the tsunami alert was lifted about 4:30 am, staff returned all the patients back to the hospital.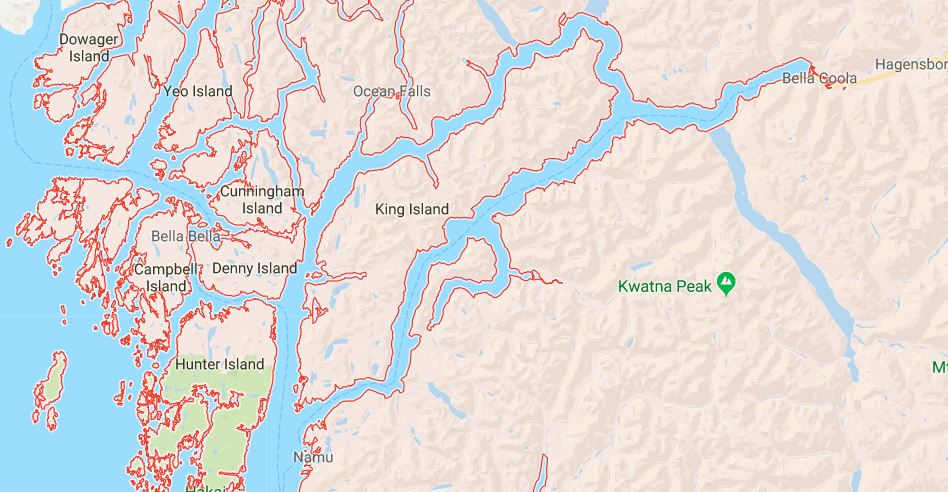 "This was an incredibly stressful time for staff. Their resourcefulness and quick action as well as that of the local community was incredible," says William. "The event has given us an opportunity to review and refine our emergency preparedness plans and share learnings with our community and First Nations partners."
At 9:15 that morning, Gary met with his exhausted staff to go over the evacuation response, to listen to their experiences and learnings, and to thank everyone for their heroic efforts in keeping patients safe.
"I am extremely grateful and proud of the R.W.L. Hospital and Clinic staff – we rose to this disruption, supported one another, and walked away identifying challenges and strengths of the process," says Gary. "There are things that we can definitely do better next time, which we will bring to our Emergency Management Committee, but I am so proud of the staff."
The situation in Bella Coola mirrored Bella Bella's. Sharon Carroll, manager of Bella Coola General Hospital, said the staff and community pulled together to safely evacuate 11 patients to a school a few kilometres away. Just as they were being offloaded into the school, she received word that the evacuation notice was cancelled.
"It was a busy couple of hours," said Sharon.
VCH CEO Mary Ackenhusen praised staff in both communities for their efforts in what had to have been some of the most stressful few hours of their lives.
"I am so impressed with how the teams in Bella Coola and Bella Bella handled themselves in this unprecedented emergency," says Mary. "A big thank you to all the staff who had patients ready to go in the middle of the night. I'd also like to thank the many volunteers and Heiltsuk First Nation community members who came together and helped staff with the patients. There will be many learnings to come from this experience, which will teach all of us how to better respond to emergencies."