VGH ED launches STOP Violence campaign
In January 2016, the VGH Emergency Department (ED) started a Healthy Workplace Initiative that saw several important themes emerge, one of which was professional safety.
In response, the VGH Emergency Department Professional Safety Working Group, in collaboration with the Workplace Health Safety & Prevention Team, launched a STOP Violence poster campaign to educate patients on the issue and increase staff and physician reporting of violence in the workplace.
Aiming to shift the culture around safety, the posters include insights on how to stop violence in the Emergency Department and feature the experiences of ED RNs, Krista McCallum and Scott Maher, as well as physician Dr. Tong Lam.
Click to play video:
"The posters have had a positive effect," says Lori Korchinski, patient services manager of the VGH ED. "They're personable, but send a serious message. Staff feel validated that VCH stands behind them that violence isn't tolerated here."
When asked about the posters' impact, Lori says they've already seen an increase in the reporting of incidents of violence and aggression.
"Reporting allows ED leadership to provide support to the staff member and  to get a realistic picture of how much this happens. It allows us to better understand the root cause and helps us to begin to address issues."
VCH Violence Reporting Line lanyards were also distributed to ED staff and physicians to encourage reporting.
Report violence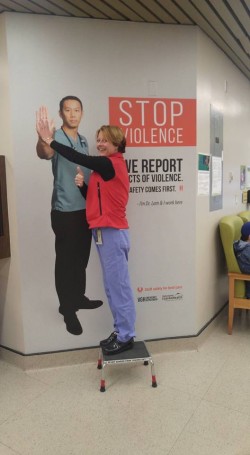 The posters send an important message to all VCH staff, especially those who work in high-risk areas, to report violent behaviour as soon as possible:
Call the Workplace Health Call Centre at 1-866-922-9464
Get EFAP support (free confidential counselling and debriefing support) at 1-800-505-4929
Violence includes physical assualts, verbal threats and aggressive behaviour.
Staff safety for best care
The STOP Violence poster campaign was supported by ED leadership, Workplace Health and the Culture and Innovation Team in Employee Engagement. Working collaboratively, these teams aim to change the culture around violence.
Thanks to everyone who made this initiative possible, and reminding us of the importance of staff safety.
For more information, visit the Violence Prevention page on VCH Connect or email WorkplaceHealth@vch.ca.