Gaining perspective about stigma in health care: learning from patient and physician experience
New "Me and My Doc Talks" series starts January 19
Erika Weikle was hospitalized over 25 times with stays as long as six months, in the decade following an initial psychotic episode as a 19-year-old university student. During that period, she became a heavy drug user, and suffered from extreme psychosis. Weikle was eventually admitted to Vancouver General Hospital, and after four months as an inpatient, she entered into a recovery facility. Now five years clean and sober, Weikle works as a Peer with VCH's Assertive Community Treatment (ACT) team.
"After I got some recovery in my life, I wanted to make sense of the hard times, and turn the negative into a positive," says Weikle. "I have a strong passion to help others in similar experiences. As a peer, I can connect with people through the idea that 'I've been there too, I got through it, and so can you.'"
Weikle supports both staff and clients in her Peer role. To reach out to staff and physicians outside of the ACT team, she has organized a new speaker series called "Me and My Doc Talks." The series is designed to focus on best practice within the area of mental health and substance use, along with a look at how stigma in the medical system can affect clients.
Thursday, January 19
12pm – 1pm
VGH Paetzold Auditorium or via webinar
Register through CCRS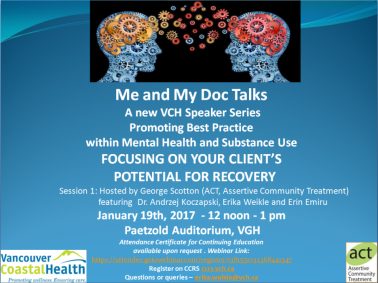 Session One of the series, "Focusing on your Client's Potential for Recovery" will be hosted by George Scotton, ACT Manager, and will feature Weikle along with her psychiatrist, Dr. Andrzej Koczapski. An education component will be shared by Erin Emiru, Peer Support Coordinator with the ACT team.
Weikle was under Dr. Koczapski's care as an inpatient at VGH, and asked him to continue provide her care as an outpatient. As a client, she appreciates his approach to her care: she has never felt labeled, and they engage in two-way discussions of various factors that contribute to her health issues. During the first Me and My Doc Talk, Weikle and Dr. Koczapski will discuss the effectiveness of their relationship as client and mental health care provider.
Open to all VCH employees (available by webinar for those unable to attend in person at VGH), this session will be the first of a number of discussions between mental health and substance use professionals and their clients. Attendance certificates for Continuing Educations available upon request.