Join us and thank a volunteer next week
We celebrate National Volunteer Week in Canada from April 23 to April 29, 2017.  This is a perfect opportunity to express our appreciation to VCH-Vancouver's volunteers for the 100,000 hours of service they provide each year and the positive impact they have on the health and wellbeing of our clients, residents and patients.
This week, and every week, we are so fortunate to have more than 1,300 volunteers fill hundreds of valuable roles supporting so many at our health care facilities and in our community at large.
Highlights of our volunteer accomplishments this year include:
Visited, offered well-wishes, or provided emergency clothing to VGH patients 11,000 times;
Helped patients and family members in the Emergency Department 50,000 times;
Assisted visitors to VGH and UBCH with information and way-finding 70,000 times;
Engaged with new parents and young children during 1,800 sessions at clinics and drop-in groups, helping to ensure a healthy start in life;
Visited with clients 1,800 times in their homes and communities to support their wellness and rehabilitation goals;
Volunteered at needle exchange clinics where 132,000 needles were given out and 80,000 returned.
On behalf VCH-Vancouver staff and physicians, we would like to express our heartfelt appreciation to both our volunteers for their time, skills and dedication to providing the best care, and to the staff who support them.
This National Volunteer Week, be sure to reach out and thank our amazing VCH volunteers!
Sincerely,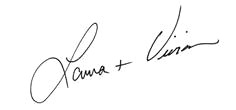 Laura Case and Vivian Eliopoulos
VCH-Vancouver Chief Operating Officers