New Women's only Overdose Prevention Site (OPS) opens in DTES
"Although Insite and our other Overdose Prevention Sites provide injection services for both men and women, some women feel safer and more supported when they are able to access services in women-only settings."  Bonnie Wilson, Director, Vancouver Community
VCH, in partnership with Atira Women's Resource Society, City of Vancouver, and BC Women's Hospital + Health Centre recently announced the opening of a new women's only Overdose Prevention Site (OPS) for women in the DTES. This is B.C.'s first OPS for women only and is part of VCH's commitment to creating greater access and stronger connections for women to health care in the DTES.
"We know that women, especially women who have experienced trauma or have problematic substance use and or mental health issues have some unique challenges accessing appropriate health services in the DTES and we want to change that," says Laura Case, Chief Operating Officer, Vancouver Community. "This is just one of the initiatives to reduce barriers to wellness and increase access to supports that will help improve their health."
The new OPS, located in SisterSpace at 135 Dunlevy Street, will be open daily between the hours of 6 a.m. to noon, and from 6:00 p.m. to midnight. It will accommodate up to 15 women at a time and offer harm reduction services, health education, access to treatment and health care services, housing support, legal advocacy and other related services. Coffee, tea, juice and snacks are available.
The OPS will have:
a chill area with cots for women to rest,
a common area and bathrooms with a shower, and
program workers and peers available, with clinical support from a Nurse Practitioner (from BC Women's Hospital).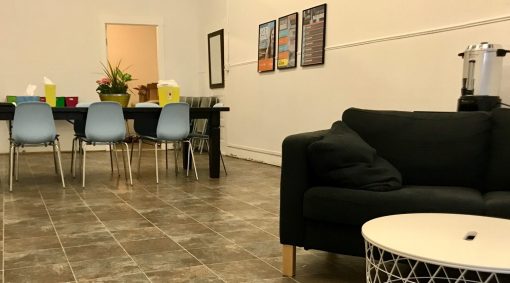 SisterSpace is connected to Sereena's and staff are familiar with providing services to women in a respectful and gender-responsive manner. Sereena's staff are on site 24/7 and will monitor the injection room to ensure clients and peers are supported.
Supervised injection is a part of VCH's DTES Second Generation Strategy and one component of a comprehensive response to the provincial public health emergency that includes preventing overdoses, encouraging less harmful drug use, and providing treatment options for people with substance use disorders.
This new overdose prevention site is one of five available to clients in the DTES. A map displaying their locations can be found at www.vch.ca/overdose.
Other new treatment services for women in the DTES include:
38 substance use treatment beds for women in the Downtown Eastside (Rice Block)
Women's Intensive Case Management Team (ICMT)
Women's Mobile Health Services Van (coming this spring)