Great energy at Vancouver Leaders Forum
Over 120 frontline leaders and managers from across acute and community came together on June 21 for "Managing Transformation, Managing Change: The Not-So-Secret Dual Life of VCH Leaders," a dynamic event exploring their role in quality improvement work. The energy in the room matched the topic of change which may at times be a challenge, but is also exciting.
The headliners: Frontline managers
The headliner of the event was an expert panel of frontline managers making a case for what they think are "The Most Important Success Factor that Supports Change." Janice Rotinski, Christine Dobbelsteyn, Kacey Dalzell and Kathryn Embacher each shared their ideas in a one slide and two minute pitch. They were all engaging, grounded and wise… as well concise. As a taster, see the hilarious "Being Transparent" slide that Kathryn used below.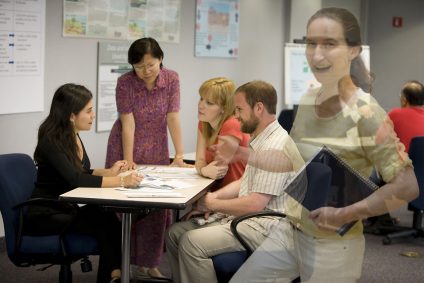 Collaborative problem-solving
The hour also included a welcome and expression of gratitude from Laura Case and Vivian Eliopoulos as well as a "Feet Forward" exercise facilitated by Professional Coach Julie Jones, who asked leaders in the room to identify one of their goals and bravely solicit strategies from colleagues sitting near them.
Click on the photos in the gallery below to enlarge them.
Before heading into lunch, participants were asked to write down the success factor that they feel is most important to support change. These are summarized in this word cloud. If you want to print the word cloud, download the Word cloud PDF.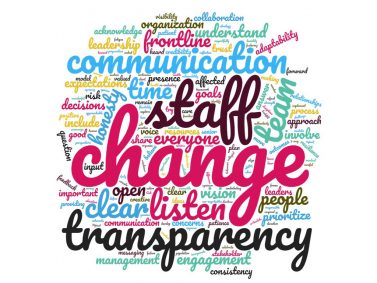 Thanks to everyone who presented as well as those of you who attended! This was the first of four Vancouver Leaders Forums that will focus on "Managing Operations, Managing Transformation" so keep your eyes out for an invite to the next session in October!