New Minister of Mental Health and Addictions opens Powell Street Getaway SIS
After only being in her role for four days, the new Minister of Mental Health and Addictions is already getting to know our VCH Vancouver MHSU programs and services.
Earlier today, Minister Judy Darcy took part in a media event to talk about the importance of the Powell Street Getaway (PSG) Supervised Injection Service, which is opening to the public tomorrow (Friday, July 28).
At the event, Minister Darcy said, "If you break your leg, we know what to do to treat you and you know where to go to get the help you need quickly, but when we're dealing with mental illness and addiction, it's far more complicated and it needs to be the same thing; ask once, get help fast."
She also commended and thanked staff on the frontlines saying that so many lives have been saved because of our staff and programs like the Powell Street Getaway.
Health Canada granted the exemption in May, pending an inspection of the facility which was completed earlier this week. The service will be open seven days a week from 8 a.m. to 11 p.m. Two harm reduction workers and one licensed practical nurse will be on shift to supervise and monitor for signs and symptoms of an overdose at the five booths, teach clients safer injection practices, and refer clients to other health care services such as treatment and substance use counselling.
The service is located at our VCH DTES MHSU drop-in centre for people living with mental health and substance use challenges, managed by Lookout Society. The facility offers a safe space for clients to learn life skills such as vocational training, nutrition and harm reduction, and access psychosocial rehabilitation programs. An overdose prevention site has been operating at this location since December 2016 and will transition to the SIS with no disruption in service.
"Incorporating supervised injection into the care of clients who use illicit drugs helps prevent overdose deaths and the spread of infections such as HIV and hepatitis C, while at the same time engaging vulnerable people in other health care services including mental health treatment and withdrawal management," said Laura Case, COO for Vancouver Community. "Once clients become more engaged with the health care system, they are more likely to pursue detox, addiction counselling and addiction treatment services."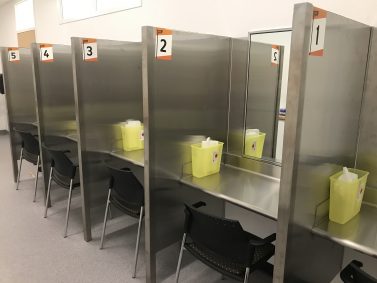 An exemption under Section 56 of the Controlled Drugs and Substances Act is required from the Government of Canada to legally operate supervised injection and/or consumption services. Now that this has been granted, we will be applying for an amendment to allow nasal and oral consumption of substances at PSG.
We also have a second exemption application for a supervised injection service at the Heatley Integrated Health Centre (330 Heatley Street, Vancouver) still pending approval from Health Canada.
For more than a decade VCH has funded two other supervised injection services – at Insite and the Dr. Peter Centre.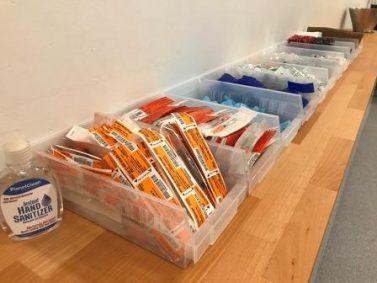 Supervised injection is part of VCH's DTES Second Generation Strategy and one component of a comprehensive response to the provincial public health emergency that includes preventing overdoses, encouraging less harmful drug use, and providing treatment options for people with substance use disorders.
Minister Darcy is also touring various DTES sites with VCH Vancouver Community and Public Health leaders today to meet frontline staff and see our services/programs firsthand.