Thank you for attending yesterday's All-Staff Forum!
Immunization: Fact vs Fiction
"Everybody has an opinion on Immunization. Even the Dixie Chicks have an opinion."
Dr Réka Gustafson MHO & Medical Director, VCH CDC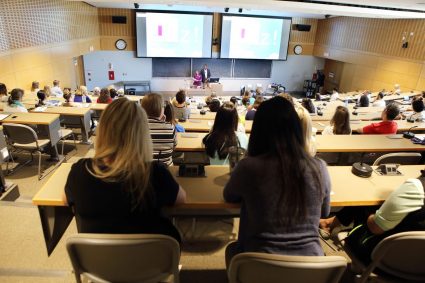 Approximately 350 people attended our One Vancouver All-Staff Forum on Immunization: Fact vs Fiction in person, at one of our facilitated sites and on webcast yesterday.
The session started off with a quiz around Immunization. Participants had to decide true or false to questions ranging from "Pregnant women should get the flu shot" (True) to "Vaccines are no longer important since many illnesses are rare here in Canada" (False) to "The timing of vaccinations for children is important"(True). In most cases, our staff and physicians had no problem with the quiz scoring near perfect marks!
Dr Réka Gustafson, our keynote speaker, then gave an interesting and informative presentation on the what and why of immunization. This led to further discussion with our panel (facilitated by Dr Althea Hayden, MHO CDC) who answered questions from "Which current vaccine do you think will completely change the face of disease in the future?" to "Why is it important that staff get a flu shot?"
We also heard a bit from Dr Meena Dawar, MHO, Richmond and Medical Director of Immunization Programs, about her time in India in 2000 working to eradicate polio in a country with many challenges. The good news is that polio was eradicated in India in 2011.
There was a lively Q&A time when we opened it up to the floor as well. The panel addressed questions from "Why put a vaccine into a healthy body?" to the link between autism and vaccines. Responding to the latter question, Dr Gustafson clarified that there is no link and strong scientific evidence to back up the fact that vaccines do not cause autism.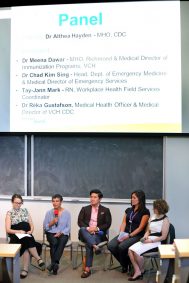 The journal that first published the paper, the Lancet,  fully retracted the original article. The vaccine-autism scare dates back a decade – to a study that only followed 12 children. The findings have never been reproduced or substantiated and numerous study co-authors have retracted parts of the paper while others are facing professional misconduct charges.
Live webcast
If you missed it, but would still like to view this informative session, please be sure to click here.