New Adult Day Program at Youville Residence
Vancouver Community recently awarded a contract to Providence Health Care (PHC) to operate a new Adult Day Program (ADP) out of their Youville Residence, located at 4950 Heather Street in Vancouver. The ADP will provide services for up to 20 adults per day who are living with dementia, based on referrals from the VCH Vancouver Community team.
The new service will increase the number of ADP spaces across Vancouver to serve even more clients and their families with needed care.
"The new ADP will also enable people who are not easily served by other ADPs to experience life-enhancing opportunities in a dedicated care environment," says Yasmin Jetha, Vice President, Community Services. "It also supports VCH's Home is Best philosophy to enable individuals to be supported in their home, with their loved ones in a familiar setting, for as long as possible."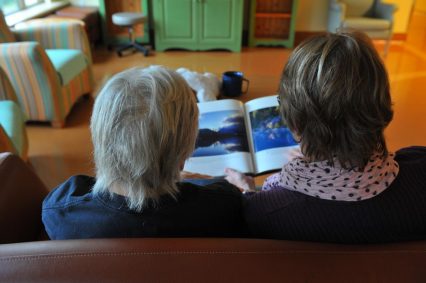 What types of programs/activities will the ADP offer?
The Youville ADP will deliver individualized health, social and personal support services in a safe and homelike setting.
Services unique to Youville ADP
Extended days and hours: ADP services are available Monday to Saturday, from 10 a.m. until 6 p.m.
City-wide catchment area: While other ADPs throughout Vancouver accept people from a specific area of the city (i.e., the West End, South Vancouver, etc.), our ADP is unique in its ability to welcome referrals from all across Vancouver.
Specialized care: Youville ADP will serve people with needs requiring specialized skills related to dementia care, who perhaps cannot be served by other ADPs in Vancouver due to their unique needs and complexity.
The site offers a secure perimeter with easy access to a large therapeutic garden.
The adult day program provides social and recreational opportunities and support with caregiver respite. This new ADP will also provide options for hairdresser services, foot care, and take home meals.
Demographic served: Youville ADP will potentially be serving a younger population of people living with dementia who have different needs and whose caregivers also have different needs (i.e., they may still be working full-time or have children at home).
In addition to programming for people served by the ADP, this day program style of service also allows primary caregivers a chance to recharge and connect with support groups, information, and other supplementary supports as needed.
PHC was chosen as the successful proponent coming out of a thorough RFP process as they have extensive experience in providing innovative, evidence-based geriatric medical and psychiatric care, dementia care and end-of-life care which uniquely positions them to provide the necessary services offered to ADP clients.
Client Referrals:
Please contact Heather Wright, Manager, Home Health, Adult & Older Adult Program, for more information or to refer a client to the new services.