First-ever Vancouver Community Research Day a success!
"I was impressed with the breadth of research going on in Vancouver Community that I didn't know about."  – VC Research Day participant
"We need research. Good intentions are not enough in terms of getting good outcomes."  – Andy Day, Director, Primary Care, Vancouver Community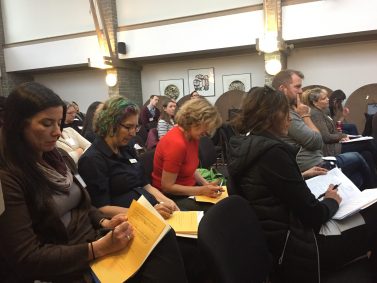 Around 90 participants attended and participated in the first-ever Vancouver Community Research Day on November 15th.
Research Challenge
The near-capacity crowd participated in a morning session highlighting the VCHRI "Research Challenge" program, an ongoing research funding initiative that began in 2013 with the intent of encouraging community-based research among VCH staff. Presenters provided background on the Challenge, shared the types of supports and workshops available to research teams, and then held a breakout session to identify potential research questions and how to take them to the next level.
"As someone who is considering applying to the research challenge, this session was extremely informative and useful," said a VC staff attendee. "It's also very encouraging to see how supportive VCH is of the research community and how it is working to facilitate research within the organization."
Keynote with Dr Patricia Daly
Dr Patricia Daly, who is the VP of Public Health, Chief Medical Health Officer for VCH as well as Clinical Professor at the School of Population and Public Health at UBC, then presented the keynote address.
Dr Daly emphasized the importance of primary care health networks and the need for more community-based health research, reminding participants of the initiatives underway at VCH, and across Canada, seeking to enrich our understanding of community-based risk factors and associated outcomes, particularly among vulnerable populations.
"Data is the new currency for change", said Dr Daly. "The important message is that research in the community is extremely important. We see lots of data from the acute care system, but we really need to think outside of our institutions to address population and public health."
VC Researcher Presentations and Panel Discussion
The keynote address was followed by presentations from VC researchers sharing their finding on ongoing and completed community-based research at VCH, followed by a lively panel discussion focussing on Research in the Community.
"I am interested in what the research means on a day to day basis in terms of providing care", noted panelist Andy Day. "We have lots of data so what are we going to do with it? This is where the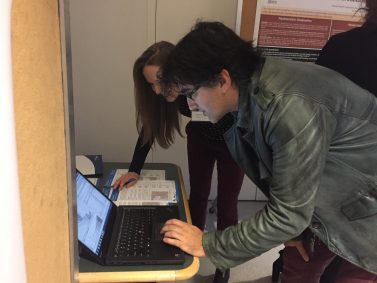 rubber hits the road – How do we translate what we think we know into services and positive health outcomes for our clients?"
Panelists, which included Day; Hella Lee, Family Therapist with the Eating Disorders Program;  Natasha Ogryzlo, Speech Language Pathologist at Three Bridges CHC; June Liang, a Physiotherapist at Evergreen CHC; and Andreas Pilarinos, PhD student at UBC and the BC Centre on Substance Use, ended the panel session by advising potential researchers to "Just do it! Decide that you are going to do this now and dedicate time every week to research."
Research Fair
The end of the day provided participants with a research fair hosted by community researchers where participants could visit any of the 15 posters and talk with researchers about the important work currently happening in Vancouver Community.
Many thanks to the researchers, panelists, presenters, participants and all who helped make the day a success!