Older Adult tertiary MH team making changes for the joy of it on Change Day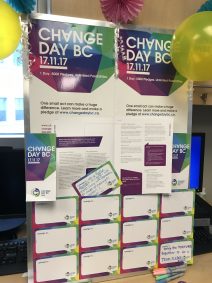 November 17 marked Change Day BC where people made pledges, including health professionals at Vancouver Coastal Health, to commit an act of change or try something new in order to have a positive impact on the health system.
VCH Vancouver's Older Adult tertiary Mental Health staff and physicians celebrated the day by gathering together to discuss what they enjoyed about their work and to make pledges that would increase joy in their everyday work environment.
The team started off by sharing what makes a good day for them at work.
For Sharon, the team's manager, it's "When I have a conversation with a client and they tell me about a good experience they've had – that makes my day! I'm also happy when a frontline member comes to me with a challenge and we are able to come together to find a solution and support them as a team."
Other team members added, "When I'm able to make a client smile or laugh," and "Playing a small part in the recovery of our clients" while another shared,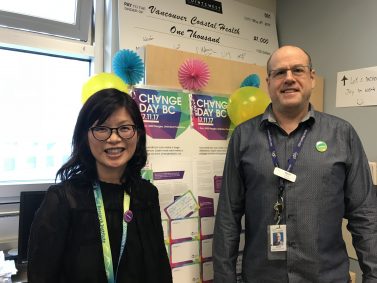 "When we're able to work together to help a client who has come in quite ill to get well again – that's a great feeling!"
How this team enjoys close working relationships, supporting each other and a strong sense of teamwork was completely evident as they went around and shared with each other.
The discussion then turned to what changes the team was committed to making to increase joy and happiness on their unit.
Change pledges ranged from, "Making it my goal to put a smile on each client's face with every interaction" to "creating more space to nurture the team culture we already have in place" to "working towards more outing opportunities for our clients."
Clinical nurse specialist, Dr. Lillian Hung, points out that "Joy in work is important because research shows engaged teams perform better and improves not only the staff experience, but also patient experience, outcomes and safety."
Congratulations to the Older Adult tertiary Mental Health team and to all the VCH Vancouver staff and physicians who participated in this year's Change Day BC!