Opening of Heatley CHC marks New Model of Care in DTES
After five years of intensive consultation, planning and implementation, the work VCH set out to accomplish through the DTES 2nd Generation Strategy is substantially completed and we now have a new model of care. This new model of care for clients and integrated staff and physician teams was fully implemented across the DTES on Tuesday (January 23).
The new changes were announced at the opening of the newly renovated Heatley CHC on Monday (January 22).
VCH first began its work on the DTES 2nd Generation Strategy in 2013 with a two-year consultation process involving clients, VCH teams, community partners and stakeholders, and the public. In 2015, the DTES 2nd Generation Strategy Design Paper was published and the road to implementation of key priorities continuing throughout the last three years.
At the core of the Strategy was the implementation of a new model of care. This new model brings together existing VCH services into three integrated Community Health Centres – Pender, Downtown, and Heatley.
"This new approach is crucial to engaging and retaining people in health care so they can live healthier lives," says Bonnie Wilson, Director of Inner City and Mental Health and Substance Use for Vancouver Community. "We have robust wraparound services with addictions support in a place that's open 12-hours a day and on-call after that, so when someone walks in and says "I need help," we are better positioned to provide it."
Wilson goes on to say, "I can't thank our DTES staff, physicians and leaders enough for the excellent care they've provided to clients while working with past systematic challenges. This new model would not be possible to implement without our teams. With their commitment and dedication, we're building more integrated teams and in the process strengthening communities and connections across the DTES healthcare network to support our clients in their health and recovery journeys."
"Previously, for our most marginalized and complex clients, navigating the system was a real challenge," says Dr. Michael Norbury, Medical Director for Primary Care, Vancouver Community. "In the new model, providers including peers, social workers, counsellors, nurses, psychiatrists, GP's and nurse practitioners all work together to deliver coordinated care within the client's own team and most of these services are all available in one location, making it easier for the client to get the care they need, where and when they need it." Specialized services such as wound care, palliative care, physiotherapy and occupational therapy are also available to supplement the services of the Integrated Care Teams.
Here's how the new model of care works: Six Integrated Care Teams (ICTs) support the new model of care and provide clinic and outreach services at Heatley, Pender and Downtown Community Health Centres. Each client will also have one care coordinator responsible for their care.
Integrated Care Teams: Social workers, counsellors, peers, community liaison workers, physicians, nurse practitioners, nurses and health care workers make up the team. They are also supported by specialized services such as wound care clinicians, psychiatrists, palliative care nurses, and occupational therapists.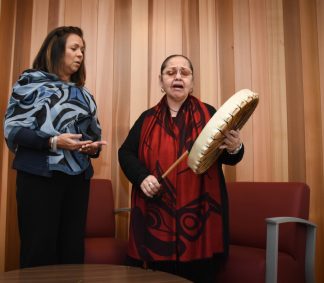 Elders in Residence: All CHCs will have Indigenous Elders as part of the integrated care team. Heatley CHC also has a designated sacred space to treat clients who are in spiritual distress, and the room has the necessary venting to allow for smudging ceremonies.
Highlights of the new model of care include:
Expanded hours for new CHCs mean 33 per cent more hours per week of access to care services our clients need, where and when they need it.
One single care coordinator and comprehensive plan for the client that incorporates the majority of client care needs
Most of the client's care can be met at one CHC (i.e. Primary care, Mental Health, Substance Use services and treatment as well as harm reduction, counselling and groups, outreach and peer support plus social work and nursing care), meaning they don't have to travel around to multiple locations to get the care they need.
42 per cent smaller teams present an opportunity for our teams to work more closely together and to create more trust between the client and their care team.
We will now have three times more teams doing follow-up outreach visits with clients and accompaniments of clients to appointments, etc., as needed.
As mentioned before, we will be able to provide 24/7 care to our clients, with access to services 12 hours a day onsite and additional after-hours on-call support available as needed.
10 times more staff have been trained in trauma informed practice and cultural competency.
We will now be able to provide 50 per cent more clinic time for women-only care, which will reduce potential trauma and increase access to care for women.
90 per cent more teams will have Peers embedded within the teams. This means people with lived experience will be able to help clients navigate the health system and our services more easily.
All clients will be surveyed about their care to ensure we continue to improve client experience and outcomes into the future.
"Of course, VCH's work is not done in the DTES, says Wilson. "Given the ongoing opioid crisis and the need to ensure clients get care when and where they need it, VCH will continue to monitor and assess the programs and services in place and adapt as our clients' and the community's needs change over time."
Meet Emma from the DTES
The best way to explain what the new model of care means to our clients is to introduce you to Emma and let you see for yourself how DTES clients and the community will benefit. Please see Emma's story in this edition.
For more information on the opening of Heatley and the new model of care, please check out the news release.  For background information on the DTES 2nd Generation Strategy, go to the DTES web site.  For a list of accomplishments achieved through the DTES 2nd Generation Strategy, please refer to the DTES 2nd Gen Implemented Initiatives.