Oscar winner grateful for new lungs
2017 was a record year for transplants in British Columbia: 479 people received life-saving organ transplants and 268 – 56 per cent – of those were performed at VGH.
As the province's largest transplant centre, the specialized team at VGH performed hundreds of life-saving surgeries last year, giving patients the precious gift of time – patients like Academy Award-winning animator Alison Snowden, who in 1995 won the Oscar for the animated short "Bob's Birthday."
In 2017, Alison contracted a virus that wouldn't go away. Soon after arriving at the VGH Emergency Department her oxygen levels dropped so low that she was intubated and put in an induced coma.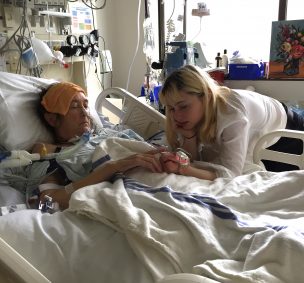 For four weeks doctors raced against the clock to find out what was causing the damage; Alison was diagnosed with a rare condition called Acute Respiratory Pneumonitis. Her condition was looking grim, and her family was told to prepare for the worst.
"It was devastating," her husband, David recalls. "My daughter and I sat there while Alison's doctor explained that there was no hope. Her lungs were completely destroyed and she would never recover. She remained on life support, but she wasn't coming back."
Revolutionary treatment
That was until the ICU and transplant teams at VGH had a revolutionary idea. They decided to attempt something new: they would wake Alison from her induced coma and try to build up her strength enough to survive an emergency lung transplant. There were considerable risks involved and no guarantees about the outcome, but it was her only option.
The team carefully hooked her up to a specialized machine called ECMO, which oxygenated her blood so that she didn't have to rely on her lungs. The machine carried her blood out through garden hose-sized tubes, oxygenated it and returned it to her body. The process is so delicate that it requires an operator 24/7 and VGH is one of the only hospitals in Canada that can facilitate this specialized treatment. This was the first time a patient had been put on ECMO prior to being put on the transplant list.
Alison stayed on ECMO while physiotherapy helped her regain her strength; eventually she was strong enough to be put on the transplant list and, one week later – on her birthday – Alison received a new set of lungs.
A new lease on life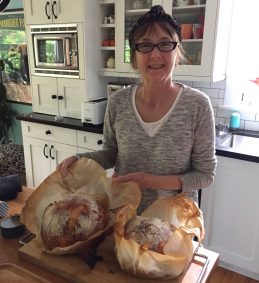 After months of recovery at VGH and GF Strong, Alison is now back home and back to work with her husband, having just wrapped up their latest animated film. "Every day I lay eyes on her, I feel like it's a magic, amazing miracle day," David says. "I am so grateful for the incredible support and resources she received at VGH to save her life."
Alison and her family will never forget the care they received at VGH. "This is a very, very special place," he says. "We were nurtured and cared for at VGH almost like we were joint patients with Alison.  They cared for her and they saved her life, against all odds and I can't find words that adequately express how grateful I am."
Reflecting on her own experience she remarks, "One day I was a healthy person and the next, doctors told my family that my lungs were destroyed… You never think something like this is going to happen to you until it does. A transplant saved my life."
Transplant cases like Alison's are highly complex and they touch so many departments including: Patient Flow & Access, Medical Imaging, Laboratory & Immunology, ICU as well as the Solid Organ Transplant (SOT) unit and outpatient clinic at VGH.
"Alison's story reflects the dedication our teams bring to patient care every day," says Andrea Bisaillon, operations director, surgical services. "By working together and constantly innovating, we provide the best quality care to patients and their families."
Record numbers at VGH
"We've had a dramatic increase in lung transplants in British Columbia," says Dr. John Yee, medical director of the BC Lung Transplant Program at VGH.  Fifty-two patients received a life-saving lung transplant at VGH in 2017 – up from 40 in 2016.
2017 also saw year-over-year increases in the numbers of kidney transplants (131, up from 114 in 2016), pancreas transplants (5, up from 4 the previous year) and liver transplants (80, up from 74 in 2016).
Learn more about Alison's story