"She supported me; she just wouldn't let me use the staple gun!"
Encouraged by senior leadership's pledge to listen and learn following the My VCH survey, Vancouver staff are stepping forward with ideas to innovate and improve patient care like never before.
Take Alecia Brooks, an admin secretary at GF Strong (GFS).
She recently shared a creative solution with Carol Chao, patient services manager for Inpatient Programs at GFS — and saved the centre more than $1,200.
Creative thinking takes shape
When Alecia learned that GFS was looking to purchase a new plastic chairs and that several oak chairs would be thrown away, she got to thinking.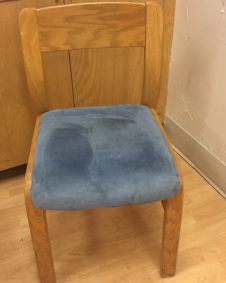 "The oak frames are in good condition but their faux blue suede seats can't be sanitized," she explains."
Quotes for reupholstering the chairs were $1,200 or more and so it looked like the chairs were destined for disposal.
And that's when the idea struck: GFS rehab assistants sew and make alterations on patient slings and other items. Maybe there was some extra material to DIY it.
Alecia spoke to rehab assistant Michelle Moreau and discovered leftover vinyl from a plinth (padded table) that had been previously reupholstered. The material wash washable, and there was enough of it to reupholster all of the chairs.
Have staple gun; will save
Alecia proposed her idea to Carol, who was supportive of the DIY approach. "She just wouldn't let me use the staple gun!" Alecia says with a laugh.
Alecia then spoke with Jeff MacDonald-Bain and Patrick O'Brien in the Orthotics and Specialty Seating Department. They had previously reupholstered plinths for the Physiotherapy and Occupational Therapy Departments – and they had a staple gun. The pair was quick to come onboard and together the three have been reupholstering the chairs one at a time.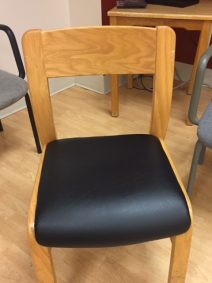 Now, every day Alecia finds another blue suede seat, unscrews it and brings it to Patrick and Jeff. They cut the black washable vinyl and staple it to the seat and then Alecia brings it back and reinstalls it. The process takes about ten minutes out of their day, and they've already reupholstered half of the chairs.
"The chairs look professionally finished and we anticipate they can be used for many more years," says Carol.
When asked how it feels to have saved the organization at least $1,200 by upcycling some spare materials and using organizational know-how, Alecia says, "It makes me feel good. We already have the labour here – Patrick and Jeff are skilled and they have the tools. Ten minutes a day isn't that much, and it makes more sense than getting someone else to do it."
When asked what she'd say to other staff members who have ideas or improvements they'd like to share, she says, "Don't keep them to yourself. Communicate them."