Meet Aboriginal Health team at VGH
Over the next two weeks, come meet our Elders and First Nation Health Authority representatives and chat with us about our programs and services.
About the VGH Indigenous Cultural Safety (ICS) pilot project
Beginning this month and continuing throughout 2018, Aboriginal Health will be embarking on an Indigenous Cultural Safety (ICS) initiative at VGH to improve the health experience of First Nations and Aboriginal peoples. Our initiative aims to ensure that First Nations and Aboriginal peoples access a care environment where they feel safe, respected and acknowledged, and talk about their satisfaction with their care at VGH.
Aboriginal Health team members will host an information table onsite every Wednesday from 10 am – 2 pm until June.
One of the first visual changes to recognize Aboriginal people and move towards making VGH more welcoming is to have a land acknowledgement by Chief Ian Campbell of the Squamish Nation on the digital screen at the front entrance of the Jim Pattison Pavilion.
Why are we doing this?
The health outcomes of the First Nations and Aboriginal population are statistically lower in many areas compared to the non-Aboriginal population and effective culturally appropriate care is essential to reduce these inequities.
VGH is a main hub for many members of the 14 First Nations in our region; it also receives referrals from all over BC as well as many smaller hospital and health centre sites in the VCH Coastal Community of Care (CoC).
A new way forward – what you need to know
We invite you to come on a journey with us to be part of a new relationship and a healing path that will improve the health of Aboriginal people now and ensure future generations have a healthier way forward.
For your willingness to have an open mind, to bring self-awareness and engage in ongoing learning, we will provide many educational opportunities for you to learn more about Aboriginal health and wellness to help you understand and work with Aboriginal health practices and beliefs.
There will also be many opportunities throughout the year for you to give feedback on the activities and educational opportunities. It is intended that the learnings from this work at VGH will be used to spread the approach to other VCH sites and facilities.
There are four parts to our approach as illustrated in the diagram below. Stay tuned for more info about this in the coming months!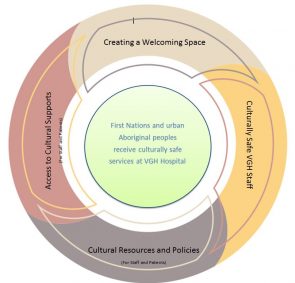 Diagram of the Indigenous Cultural Safety (ICS) approach for VGH pilot project
More information
See our ICS pages on VCH Connect