High fives and discussions and news, oh my!
It's here! Visit the new My VCH intranet, a place where we can create an online community to share ideas, recognize each other and learn together. We still have work to do, including moving more content from VCH Connect, but this first phase establishes a foundation for us to get started.
Before you click, three things to know:
1. You must use a modern browser like Google Chrome or Internet Explorer 11. Contact the Service Desk to see if it's possible for you to have one installed.
2. If you're prompted to choose a sign in account, select "Network Account Login."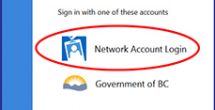 Please read the How to access the new My VCH intranet for tips.
3. If you use a generic, shared login account, you might not see the new intranet. Contact the Service Desk if you can't access it.
How can the My VCH intranet help you?
Be in the know
There are lots of changes, projects and successes to share across VCH, especially in response to the My VCH survey results. Read the news, browse the events calendar, and then like and comment on stories to give your perspective! If you comment, your name and email address will automatically appear. You are not anonymous on the intranet.
Recognize your coworkers
Give them a virtual high five to say thank you for the work they do!
Start a discussion
Do you want to share ideas or best practices with colleagues? Do you need feedback on an idea? Want to get people together to form a Sun Run team? Use the discussion forum to engage your colleagues across the region.
Get information about working at VCH
There's an entire section called "Working here" that includes the most popular information that was on VCH Connect: find out about your pay and benefits; scheduling and time-off; and health, safety and wellness at work.
Coming soon: access from off-site
You'll soon be able to access the intranet when you're not on the VCH network—from off-site or from home—using your network login information (like webmail). Stay tuned.
Visit the new My VCH intranet
Explore it today: https://my.vch.ca
Explore the My VCH intranet
Does your program or team have information on VCH Connect that needs to move over? Send an email to webupdates@vch.ca with your name, department, and a link to your current section. We'll add your name to the list for phase two.
In case you missed it
The My VCH intranet: 10 reasons to get excited