Results are in for LGH's inaugural bike census
Results are in from Lions Gate Hospital's Spring 2017 Bike to Work Week Bike Census. In total, 40 bikes were logged across 10 locations:
17 bikes were stored inside the hospital,
16 bikes were locked inside the two bike cages, and
7 bikes were locked in bike racks at hospital entrances.
Without this exercise, only the 16 bikes in the bike cages (40% of the total) would have counted as staff bicycles. (Indoor bikes are 'hidden' and the outdoor bike racks are often presumed to hold guest, contractor, or family cyclists for short-term meetings, visits and errands.)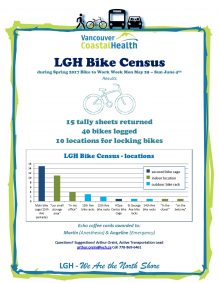 "The large number of LGH staff bringing bikes inside suggests a couple of motivating factors: enhanced security, and/or the time-saving convenience of bringing the bike directly to the work area," says Arthur Orsini, Active Transportation Lead.
As the first ever Bike Census, your feedback would help. Please let us know if you have any comments or suggestions in how we can increase the ease and effectiveness of assessing the cycling facilities here at LGH.
Thank you to the 15 people/departments that completed their Tally Sheets. The random draws of Echo Café vouchers were awarded to Martin (Anesthesia) & Angeline (Emergency).
Thank you for cycling to work.  Bike safely. Bike often.
Do you walk to work?
Our active transportation is now going to shift gears and focus on walking. LGH staff living in NorthVan (that's the password!) will have already been invited to participate in the We Walk survey. Stay tuned for the launch in next week's VCH News for the We Walk campaign at LGH.