VCH Food Standards affect more than just the DTES
This is the fourth in a series of articles on work implemented in the DTES through the 2nd Generation Strategy. This article looks at the recently completed VCH Food Standards for programs and services with a food service component.
Food is more than just an essential part of having a healthy body; it is also deeply tied to social and emotional health through social interaction. We make dinner plans with our friends, or meet up for a coffee and a chat – food is at the centre of our life and wellbeing on so many levels.
"As we've said before, the primary goal of the 2nd Generation Strategy was to improve the experience and health outcomes of clients," explains Bonnie Wilson, Director, Inner City. "During our stakeholder engagement process, DTES community members raised concern about the availability and accessibility of quality food in the neighbourhood. So, we developed a DTES Food Framework as a first step to creating the Food Standards."
The Food Standards are a first for VCH and are rooted in three key areas: access, inclusion, quality. Even though VCH developed the Food Standards as part of the DTES 2nd Generation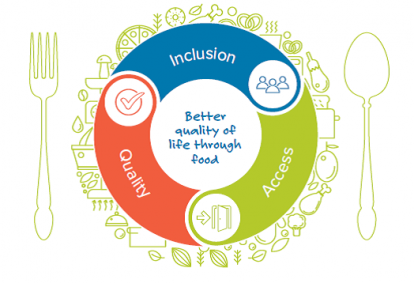 Strategy, they can be used by other areas of Vancouver and beyond. In fact, that is the hope.
"VCH provides a range of food offerings to clients through our many programs and funded services in the community," says Wilson. "We can't solve the complex issues surrounding food, but we can do our part in the community to define what high-quality food programming means to us as an organization."
Who worked on the standards?
A working group comprised of a variety of community partners and VCH staff worked on developing the standards. The VCH DTES Peer Reference Group (see Peer Reference Group article for information on peers) was instrumental in providing feedback, as were current VCH clients, staff, and community partners who were invited to participate in a series of focus groups and an open house.
Who are The Standards for?
The Standards have been developed to support programs and services within VCH owned and operated or co-managed sites in Vancouver Community that have a food service component. In addition, staff who provide food at meetings or as part of engagement should do so with The Standards in mind.  External organizations, programs and services are welcomed and encouraged to adopt any of the standards in support of their own values, mandate, and desired program outcomes.
How should the standards be used?
Within VCH, the standards can be used to support requests for proposal (RFPs) as well as contract development and monitoring for VCH-funded and contracted services in the community that have food service component. Community partners and other organizations are invited to incorporate the standards into their own services in alignment with their own program goals and available resources.
For more information about the standards or how to incorporate them into your work, please contact Ellie Schmidt, Registered Dietitian, DTES ellie.schmidt@vch.ca
Other articles in the series include: Peer Reference Group help shaped New Model of Care in DTES; DTES Women's ICMT celebrate one year anniversary, and the Opening of Heatley CHC marks New Model of Care in DTES.
Background information: After five years of intensive consultation, planning and implementation through the DTES 2nd Generation Strategy, Vancouver Community substantially changed the way they provide services in the DTES to improve the quality of life and health of people who live in the DTES. For more information, visit the DTES web site.